These are the reviews from previous customers. I love to see the pieces being enjoyed in their new homes!  
If you would like to add to this page, please email me : 
info@soulsoundwoodworks.com  or   info@georgiaedwardsart.com   
Thanks, Georgia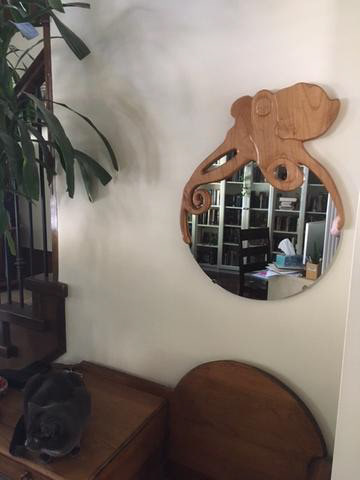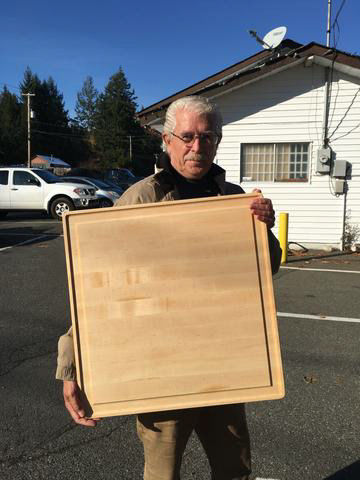 Love my tree mirror 
Linda Daniels on Sep 11, 2017
 " I've had a tree mirror hanging in my bathroom for 15 years. The alder gets more beautiful every year. "
Tree Mirror
Kathy Roycroft on Sep 12, 2017
"We have enjoyed our mirror for many years. Originally it was made for our front hall but now hangs in our Guest Bedroom as it is a perfect match for the Country Pine furniture. It truly is a work of Art. "
Timeless classic
Courtney Edwards on Sep 12, 2017
" Its a privilege to be one of the first people t receive a custom piece. I've had a cherry stained mirror for over a decade and it really is timeless, west coast classic "
Serving tray
Roger and rachel on Sep 14, 2017
" We love our walnut, sapele and maple serving board. We took it to a potluck with an assortment of cheese and sausage and have also served homemade bread on it. Many compliments were made! "
Elegant Octopus
Bruce M. on Sep 19, 2017
" While in her teens, Georgia began honing her woodworking skills making guitars that were beautiful both visually and acoustically. Now, following years living off-grid on Lasqueti, she's back doing what she does best. Georgia's put together a portfolio of practical and whimsical designs using creative combinations of local and exotic wood species. Beautiful work, precise inlays, silky smooth finish and that octopus mirror on my wall seems to invite conversation with all who wish to look into the infinite wisdom of Cephalopod self. Great conversation piece-----Thanks Georgia---love it!!!
Great cutting board "
Sarah on Mar 05, 2018
" I love this cutting board! It is both beautiful and functional. "
Beautiful and functional
Roger Daniels on Mar 12, 2018
" Love my cutting board/serving tray. The contrasting woods are beautiful and the tray is perfect for serving a variety of tasty tidbits....such a wonderful gift. "
Octopus/ChoppingBlock
Roger and Friends :) on Mar 21, 2018
" We Love😍 our Chopping Block💯% .Use it Everyday and still looks amazing👍
TOP NOTCH Quality n Beutiful work !
EPIC look TOO😊 and well...
The Octopus Mirror
Speaks for itself 🌟🌟🌟🌟🌟
We will definitely shop again. "
Raccoon print
Jennie Taylor on Apr 16, 2018
"This little guy is so life like. I love how he is looking right at you. Now to find a frame worthy of him!
I love my new cutting board! "
Sunflowers
Jennie Taylor on Apr 16, 2018
" As soon as I saw this painting I knew I had to have a print. The sunflowers are so whimsical and the sky has so much movement. This print makes me feel happy. "
Beautiful Piece
Dianna Maycock on Apr 16, 2018
" I absolutely love Georgia Edward's artwork and look forward to purchasing many more pieces as my cabin expands. I chose Bandit as my first purchase because Georgia caught an expression in his eyes that calls to my soul. Every time I pass this piece of art on my wall I stop and marvel at the detail Georgia captured, like the reflection of the trees in Bandit's eyes that he is looking at. "

" Exquisite work, Georgia! "
Peony Power
Stacey on Sep 06, 2018
"Can hardly wait to get this beauty framed!! Such a talented artist! Incredibly honoured to say she is my friend ❤️"
Courtney Edwards on Sep 12, 2017
" I finally got my amazing cutting board! I love it. It replaced my boring old store bought board that warped and never sat flat. This new board lives out on a special spot on my counter and never gets put away. My goal is to have a home filled with as many hand made, built to last things as possible and this board is definitely going to last :) "
finally
nick lanyon on Feb 17, 2018
" in a land full of the same old boring throw away cutting boards finally I've come across something that is truly unique and well made! these boards are top quality and its hard to pick just one "